What is a consumer unit?
Consumer units also commonly referred to as fuse boxes and can potentially save your life. However, a faulty consumer unit can also be responsible for loosing your life too. It definitely will pay you to be aware of the 'current health' of your consumer unit, and how capable it may be of saving your life should a problem develop.
What does a consumer unit do?
A consumer unit takes the power from your main incoming supply and then distributes the power via fuses to power your home.
To current regulations all Consumer units should now be made of a non-combustible material.
A consumer unit should also be intelligent enough to detect a fault in your home installation. This would be more than just the standard 'tripping' but rather in the form of dual protection RCD's which all new consumer units are now fitted with. Having an RCD in your property is of most importance. RCD's could one day save you or your family's life.
RCD's are clever and detect faulty appliances before you are even aware and will even activate if someone accidentally touches a live cable in your home. The capabilities of an RCD far exceed any other safety function of a fusebox such as a trip switch activating or a fuse blowing. An RCD activates in less than 300 milli seconds.
If you have an RCD in your home please make sure you test the trip on them atleast every 3 months.
Why you shouldn't have a plastic consumer unit
The change to enclosures made from a non-combustible material is due to the rise in deaths from consumer unit house fires, which London Fire Brigade (LFB) has recorded. In 2013/14 alone there was a record 253 fires involving consumer units. This is a steep increase from 71 fires in 2011/12. LFB reported that the reason for the rise in fires was due to 'substandard cable connections made by the electrician', which led to the plastic enclosures overheating and igniting.
In effort to prevent overheating of the connections, the metal clad consumer unit or metal clad cabinet will contain the fire inside the enclosure and minimise any flames should they escape.
How do I know my consumer unit needs upgrading
Any consumer unit without an RCD or RCBO needs an upgrade. This doesn't always mean a whole new consumer unit so it is essential.
Feel Free to contact us for expert advise.
Consumer units with wooden backs almost always need replacing as these can often date back to the 1950's – a lot has changed since then!
If your consumer unit looks anything like the image below then it is important you upgrade it.
How to check if your fusebox has RCD protection
Look for a button with T or test on your consumer unit. This indicates if an RCD is present. Don't forget to press the button to make sure your RCD is working as it should be. If it does not activate (turn off your power) or you have any concerns about it, then consult a qualified and registered electrician asap.
Consumer units, like fire alarms, need to be tested regularly to ensure they are working as they should be. Remember they are there to protect you from electrical harm.
You can also upgrade your old consumer unit to something called RCBO's, this is an MCB (Overload current device and an RCD Residual Current Detector) All built into one.
This is by far the best boards out there, the reason being is that if you have nusicance tripping. Only the circuit at fault will trip. As with the RCD spilt load board half of the circuits will not work in your property.
Below is a picture of a RCBO board.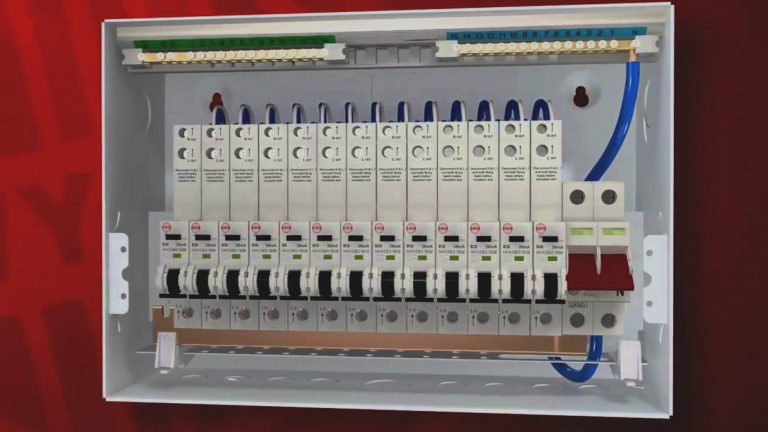 How Long does it take to change a consumer unit? and would i get a certificate?
Changing the consumer unit itself normally takes between 2-5 hours, all power in the home will be off during this time. But we are able to supply a temporary fuse board with sockets, so you have some power.
After completing the consumer unit upgrade, we then need to test the whole installation of the property, this can take between 1-3 hours.
After completing the above actions we will issue you with a certificate. Which we generally do this whilst still on site using our tablet and sending the certificate in email form, as well as the invoice there and then.
The average cost for a consumer unit change can be from £300.00 – £500.00 plus VAT.
Do you need your consumer unit / fuseboard upgraded?
Please contact Starks Electrical – Your local electrician for expert advice and free quotation to upgrade your consumer unit.